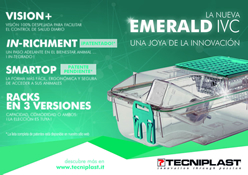 Emerald IVC
Emerald IVC
Vision +:
The daily cage inspection has never been so easy: EMERALD full visibility is guaranteed by the latch free innovative design.
Optimal protection for both animals and operators assured by Tecniplast PATENTED* cage sealing design together with the in-bedded locking system: simply place the top on the cage to achieve perfect sealing.
In-Richment:
A mouse cage + an enrichment device all in one!.
Increased animal welfare thanks to the raised section in-bedded in the EMERALD cage base that provides an area for resting, nest building, exploring, social contacts and exercise.
More reliable scientific outcomes as EMERALD promotes the expression of positive behavior patterns.
Minimized potential contamination: no need to purchase and separately process additional cage inserts.
Smartop:
Better Ergonomics for Operators : accessing your mice is now easier than ever! EMERALD SmarTop features a mechanism that allows the cage top to be vertically positioned on the base.
Streamline cage changing procedure : SmarTop features an easy, reproducible, standardized motion that guides the operators through the process of cage changing.
Contamination always under control by minimizing the working area occupancy, a crucial aspect when applying aseptic techniques.
All-in-one Racks:
Capital investment and running cost savings thanks to the increased cage density that optimizes floor space.
Versatility: three different IVC rack styles, select the one that suits your Facility's needs.
Best ergonomics : a rack design with operator ergonomics in mind.
Etiquetado en: