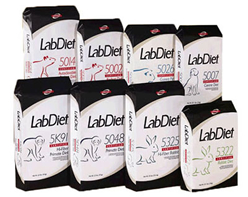 Standard Diets
LabDiet® products are used in research institutions throughout the world. We are proud to be the leader in research animal nutrition. You can rely on our innovative team to continue to offer products which meet the increasing demands of the research community.
The quality of LabDiet® products is unmatched. We set the standard in November 1996 when our production facility in Richmond, Indiana became the first ISO 9002 Certified production facility in the USA. Today, our Richmond plant remains the only Certified production facility of its kind in the USA.
For over 70 years, LabDiet® has enjoyed the privilege and responsibility of supplying nutritional information to our customers. We offer you our technical information about our products through this website. We believe being open and honest is the only way to do business with our research partners.
Etiquetado en: