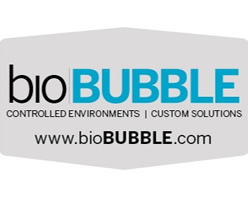 bioBUBBLE
bioBUBBLE, Inc., headquartered in Fort Collins, Colorado USA, has been designing and manufacturing custom, softwall HEPA-filtered environments for cleanrooms and containment applications for more than 30 years.
We specialize in airflow dynamics and work with clients in life sciences, biotechnology, and pharmaceuticals, but we have developed solutions for a number of clients in other industries. We have completed projects worldwide from small renovations to complete purpose-built solutions for a variety of public and private institutions.
Our HEPA-filtered environments, constructed using anodized aluminum framing and durable vinyl sheeting, offer a lower-cost option to other solutions. Whether your needs involve benchtop enclosures; freestanding, portable cleanroom or containment solutions; or wall-to-wall designs that work with your existing hard walls and fixtures for cleanrooms or containment, bioBUBBLE solutions offer the most flexibility for an adaptable, cost-effective, long-term solution.
Etiquetado en: