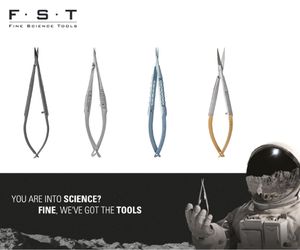 Fine Surgical Instruments for Research™
Welcome to Fine Science Tools
Fine Surgical Instruments for Research™
Discover more than 1,100 of the finest European instruments from the leading distributor to the global scientific and biomedical community.
#FineScienceTools
We've built our business on a solid foundation of:
• Outstanding Customer Support
Our selection of instruments is based on careful study and knowledge of our customers' needs, as well as listening to their requests. We use this feedback to constantly adapt our products to the laboratories, research facilities, and learning institutions that rely on them.
• Impeccable Product Quality
Almost every instrument we sell is manufactured by skilled European craftsmen, and designed to exacting specifications. They're forged from the strongest, lightest materials available, including the finest German stainless-steel alloys.
• Individual Manual Product Testing
We're dedicated to quality control, with highly skilled technicians in our German repair and QC department inspecting each and every instrument.
Etiquetado en: